So after a long winter, spring craft shows now abound. I'll be attending the Creators' Marketplace Show and Sale in May. I know it seems far away, but you would be surprised how fast spring and summer book up! Plus you'll have to $ave up some funds!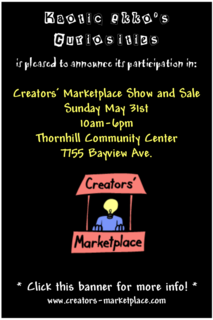 Should be lots of fun! I'm really looking forward to it!
I'd like to direct you to a new website, too - Canada Arts Connect. A site for professional artists by a professional artist, Desirée Ossandon. Check it out!
Well, I'm hoping to update this more regularly (I know, I always say that) now that it's "Art Sale" season! Seriously though, I really mean it this time...