For a while now, I've been searching through online craft supply stores that are Canada-friendly. I was recommending some sites to a
friend of mine
and then told her I would just make a list. And then I thought, "Duh, let's just do a blog post so everyone can blow their rent money."
These are all sites I have purchased from myself. Crazy tested, Insane approved. So let's get on with it already! (
Click on banner for website
)
Mon Scrapbook is a Canadian company based out of Montreal which means no duty surprises or exorbitant shipping from the States. The product prices are competitive and in Canadian dollars so you don't have to figure out the exchange rate. (I usually don't try to figure it out. It just seems better that way.)
Shipping is a flat $7.50 and for orders over $100 shipping is free (in Quebec and Ontario. Other provinces click
here
).
I just took advantage of a sale where everything was 15%-60% off. Talk about heaven. I've ordered once before and was incredibly pleased. The package arrived quickly and everything was in tip-top shape (which is saying a lot for 12x12 scrapbooking paper being sent through Canada Post!)!
*
UPDATE! I just received my parcel! I ordered on Saturday and it arrived on Tuesday! Can't beat that!
*
embellish-it scrapbooking is a company from the States (Colorado, to be exact). So shipping and duty can really get ya.
I ordered some paper, stickers and stamps last August. My order came to $14 and shipping was $9. Pretty steep, however they had some products I couldn't find elsewhere. It seems the shipping is on a sliding scale...the more you order, the higher the shipping.
More recently I made a larger order. $59 total - $12 in discounts + $15 S&H = $62. And when it got here, there was a nice surprise! $13 duty and handling fees! Hurray for Customs! It also took three weeks to get here which I attribute to Customs being really big poopheads.
1-2-3 Stitch is a company based out of the States (Utah!). Don't let their simple website fool you! This company covers a wide variety of cool stuff from scrapbook to fabric to yarn and more.
My first order consisted of craft thread, one clear stamp and ribbon glue. *Quick note about the ribbon glue:
Making Memories Ribbon Glue
is awesome. If you need to affix ribbon this glue dries quickly and doesn't leak through. Now if I can only find where I put mine (P.S. Found it!)* My second order was cross-stitch fabric and embroidery thread. If you can't find the color you need here, it probably doesn't exist.
1-2-3 Stitch's shipping is also based on a sliding scale, but starts at just $2.99 whereas others start at a flat of $5-7 and go up from there. From what I remember, the package arrive fairly quickly.
The above are shops that I've ordered from recently and can remember the details. Here are some other places I frequent:
Lots of paper, stamps, ephemera, etc. Almost anything you can think of for altered art.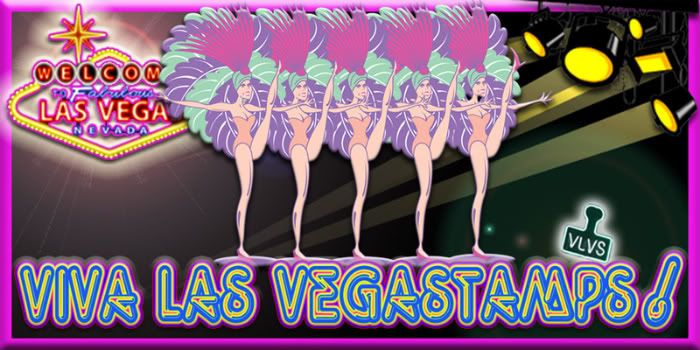 I had the pleasure of going to Viva Las Vegastamps when I was in Vegas with my hubby in March. I have never seen so many stamps in one place. The man and woman running the place were super nice, as well as their zoo of animals. I believe we counted 3 cats and 3 dogs. I felt at home checking around me to make sure there wasn't a cat I was going to step on as 2 of the beautiful Persians were following us around the store. Any store that has cats is a good store to me!
We got there an hour before closing (thanks to the Deuce...stupid bus) but I suppose it was for the best being airlines unfortunately have a weight limit.
The website can be a little overwhelming...and detrimental to the bank account. Make sure you check out their naughty stamps and grab bags (if you can't make up your mind!). And, of course, if you can, make it down to their shop. It's an experience!
I've ordered some
weird stamps
at My Paper Moon. This site does not have shipping posted on their site so it's best to figure out what you want and email them for a quote. I was lucky when I ordered, they were offering free shipping.
I've ordered from these guys several time. They may look a little rustic, but there are some gems if you have the patience to look. Their sayings are particularly entertaining. I love one of their stamps so much I'm getting it tattooed on my wrist. How's that for endorsement!
Now I know
everyone
is going to like this shop! There's some retro, some horror, some bizarre... and the people who run the place are super nice. Shipping starts at $5.25 for orders $30 and under.
This is one of the shops that I wish I had millions of dollars to shop in! Beautiful stamps. And shipping is $12 for an international flat envelope which Linda can expertly jam a number of stamps into. I've personally purchased the
Wings Set
and
Flying Ladies Set
.
Ok. I think that's enough for now. This blog got a little out of hand. Just a few closing pointers though (bear with me...you'll be happy you did!):
Sign up for a site's newsletter...it's the best way to get deals such as free shipping and great sales.
Don't be afraid to email questions and concerns. If the site doesn't specify shipping to Canada, it doesn't always mean they

don't

ship to Canada.

Be prepared to pay tax/duty/handling fees. They usually only apply to more expensive orders. Originally I thought it was orders over $50, but that theory was shot to hell after my last delivery. And FYI, Canada Post only takes cash or credit card.

Don't be afraid to try stamp grab bags...sometimes you'll get something you would never thought of buying and discover a really awesome use for it.

Well, I'm sure I forgot something...which means there will probably be a follow-up blog! I hope this is useful. I'd love to hear some feedback!
Melissa
Kaotic Ekko's Curiosities